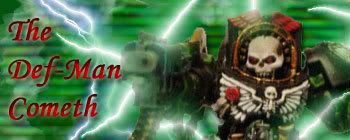 Ahoy all, me again. It's been a while my dear friends, alas I am at a slump in my hobby enthusiasm - diverted away by the way of the student and my near fanatical devotion to running Dark Heresy for the boys. It's a strange time, where rather than focus on armies on the battlefield, you have to worry about a smaller group of people who you have little control over. Ah, the joys of the GM.

However, I digress. Gentlemen (and ladies) my question to y
ou is how do you get out of the habit of putting the hobby to the sideline?

Yes, twas just a short one today, bigger update tomorrow with my entry for best squad in Golden Griffon at Conflict, but here is progress one one of my Eldar Pathfinders.